Feb 20, 2015 Milan, Italy – Cusano Milanino Teatro Giovanni XXIII
Old-ish theater. Crazy scene around the soundcheck. We are filming and recording tonight. Well, we are recording every night thanks to our amazingly awesome Berhinger mixer/monitor system. You can record the whole mix to an internal two track recorder that looks like an old cassette deck. Or you can hook up a laptop via USB and record the whole show in a multi-rack session. We are doing 32 track outputs!
But tonight we (meaning mostly Roger Salem our promoter/guardian for many of these shows) are filming because we have some guests in the performance Two drummers from Cameroon and a dancer. Added to this mayhem is the general Italian backstage mayhem that can appear at these bigger theater shows. For some reason tonight there was a crazy amount of traffic backstage. All sorts of people coming and going. Walking around the stage during our soundcheck and coming in and out of the dressing room while we were changing or practicing.
Funnily this is the kind of thing that, in the past, would have had the potential to throw my whole show. Most people simply don't understand what needs to happen at a venue in order for the evening to transform into a performance. I mean one with connected integrity. Where the stage gets wholly imbued with your work (and play), and all the dots are connected and alive. You have to transform the space into "your space." And it not just a matter of pissing in all the corners. Though there is something to that.
I can remember one Crimson gig (I think it was in Italy) where all the other guys had buggered off and Fripp and I were alone in the dressing room. Without a word said between us ,we began moving the chairs around in the room. This was in order to get the place situated for the backstage work of warming up and tuning up ourselves. It quickly became apparent that there were too many chairs in the room. Way too many. So, still without saying anything, we began moving 80% of the chairs out of the room and stacking them up. When all this was done we were really ready to begin. A very simple, and even pedestrian act. But, the beginning of making the performance space our own.
It's not strange that people who aren't performers or aren't involved in this field wouldn't get that. But it baffles me to no end that folks who are around musicians all the time don't see this. That we need space, silence and an empty void in order to "set the stage". How can you fill something if it is already full? You can't.
So back to the Milan gig with 15 people rummaging around our stage....
Normally this kind of thing would ruin several hours for me, if not the whole evening, if it kept up. Trying to hold myself together while the world conspires against my purposes of coming all this way. But, either I have matured after all these years or this gig just has different challenges that can be met with enough grace to float above the chaos. So all is good.
- - -
The performance was great. As usual! We have much of this stuff dialed in and are now into the fine tuning stages. We are also learning some new tunes along the way. Each gig we try to do our soundcheck quicker and quicker. At some point before the last gig we will do one without a soundcheck and rely entirely on our mixing system to tweak it on the fly during the performance.
We had a bucketload of guests in the performance tonight. Ezra played the kit on "Intruder" again. A tad slower and very heavy. We re-arranged the set so that "Rhythm of the Heat" and "I Have the Touch" were in the encores. Couleurs du Monde is the name of the group that joined us for this. Talk about powerful drumming! Then their dancer came out writhing and, at one point, threw flour up into the air and into the audience. Very striking.
For the final piece "Biko" we had the drummers, the dancer, Scott Weinberger on drum kit and Ezra on floor tom. That made a total of 10 on stage.
This was Ezra's last night. He flies home in the morning. So this was a grand conclusion.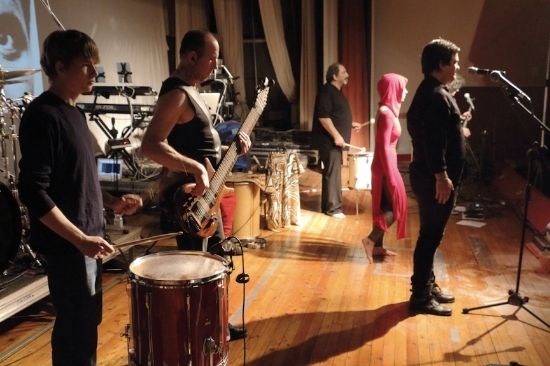 Feb 21, 2015 Verona, Italy – Club il Giardino
Very timing and long night and morning for me. Ezra and I got back to the apartment in Milan at 2:00am, I couldn't get to sleep until 3:00 and we have to get up at 6:00. Whereupon we took a taxi to the train station, then got on a bus for a one hour ride to the Milan airport. I put Ezra on the plane and then took the bus ride back into the city center and then caught a one and half hour train ride to Verona. Unfortunately it really took 3 hours. But there you go.
It was the Social Security Club tonight. By that I mean: a homey placethat I loved everything about. It is very small underground gig. Literally in the basement of the guy's building. And, it reeks of his enthusiasm. Everyone plays here and it is honor to be in the club. Totally sold out tonight. This is more like doing a house concert for friends of a friend. Every chair was reserved their name written on it. Personalized just for them. Fantastic!
Great show, as well. People were sitting right on top of us. And I saw several familiar faces. High point for me was "Games With Frontiers" and the Coda we made from "Last Temptation".
I'm beginning to get a grip on my personal work for this tour: clarifying and holding the emotional quality of each piece. Sounds simple enough, but...for me it is real work. Nothing about the articulation of the hands for any of these pieces is that challenging. Which means one could let the fingers just do their job while you check out. Or just sit along for the ride. But that won't do. One of the things I know so very clearly about these pieces is the original feeling I had when I first heard them. "I Don't Remember", "No Self Control", "San Jacinto", "Family and the Fishing Net". Each of these has a very specific quality. If I can just hold on to that while we are playing...only good things can come.
- - -
previous tour diaries